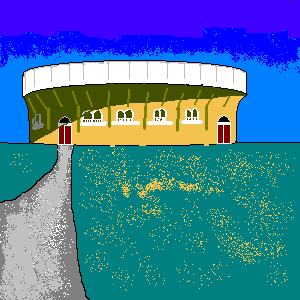 MY FAVORITE SITES
Stanley Conrad's 'Mundo Taurino' (in English)
Martín Ruiz's 'Directorio Taurino' (in Spanish)
Gerry Campo's 'Fighting Images' (in English and Spanish)
SOME ECUADORIAN BULLFIGHTING MUSIC
(If you dont have the RealPlayer you need to download it now in order to hear the music)


Download Now!
El torro barroso / The dusty bull
Sangre ecuatoriana / Ecuadorian blood
El Chulla Quiteño / Quito's 'chulla'
Bajo el cielo de Quito / Under Quito's sky
Guayaquileño madera de guerrero / Guayaquil's warrior man(clip)
Riobambeñita / Riobamba's Girl
Ambato tierra de flores / Ambato, flowers land(clip)
La tuna quiteña / The student band from Quito(clip)
Lindo Quito de mi vida / My lifetime beautifull Quito(clip)
Romantico Quito / Romantic Quito(clip)
Ecuador's Bullfighters
The following are Ecuador's all times gilt 'matadores':
Aníbal Vallejo 'Maera de Quito'

Is trully the begginer of modern bullfighting in Ecuador. Having as tutor to the spaniard Manuel García 'Maera' learning first to fight as his paun performing inside and outside Ecuador in the 20's and 30's. Listen to the music done in honour of 'Maera de Quito': 'Sangre Ecuatoriana' (ecuadorian blood).

Edgar Puente 'El Chulla Quiteño'

(1924 - 1994)


Chulla in Kichwa means odd. Itself has a focus of a life-time social and cultural behaviour: This word was used to name Quito 1940's macho character: 'El chulla', whom never had one even partner in a love affair --this character had loads of woman, didn't comit himself seriously in a relationship--, was most of the time out-of -money, but always managed dressing himself with the best garment, and never paying the bills. Edgar Puente was one of the 'chullas' and an extraordinary bullfighter. He made himself a name abroad in México, Colombia, Perú and Venezuela. In Spain he couldn't achieve more than confirming his 'alternativa'. Madrid, May 27, 1948 being godfather Mario Cabré and wittnessed by 'El Vito' with cattle of Atanasio Fernández. From his invention is the 'Ecuatoriana', a 'pase' cousin of the 'Aragonesa', done in the same way, but switching the cape with the 'muleta'.

'El Chulla Quiteño' it's also a song composed by Alfredo Carpio for all the 'chullas', and was played when Edgar Puente was fighting a bull. Now-a-days it's only played when something extraordinary like an 'indulto' --the bull is not killed but instead keeped for reproduction-- happens in Quito's bullring. It's also the best price for the bullfighter.



Manolo Cadena

(1936)


People whom have seen him fighting say that he does this with loads of feeling. It's a lot of time since his retirement from the bullrings in 1966. As a bullfighter he had to persevere a lot to succeed. It's the only case in bullfighting history where some 'matador' had to take four times his title examination --'alternativas'--, in four different countries: Ecuador (November 10,1959, godfather: 'Joselito de Colombia', bulls from Gangotena), Colombia, Mexico, and at last Spain because of the tiny disagreements with his managers --'apoderados'--, though.these problems helped him to lern the business.

I have enjoyed Cadena's achievements as an enterprenure. He made the'fiesta' a big business, bringing cattle and bullfighters directly from Spain to his 'Feria de Quito' (beggun 1965).



Armando Conde

(1940 - 1984)


A real bullfight master. No bullfighter has performed better the 'pase' changing the bulls atack direction --since his retirement(1979) I had to wait 19 years to see another bullfigher(El Juli) perform this 'suerte' in a fair way, though not with Conde's skill. Before the 'Feria de Quito', ecuadorian 'matadores' had matches mostly with bulfighters from Mexico --the best of the 50's--, Southamerica and scarsely from the far-away Spain.The task for Conde was to overcome the very professional spanish bullfigters.

Armando Conde lived most of his life in Colombia, where his parents had emigrated in his childhood though his 'alternativa' was September 24, 1961 in Valladolid, Spain. The godfather was Gregorio Sanchez, witnessed by Curro Romero, with cattle from Javier Molina Domínguez. A bullfighter from the 60's, though his shining achievement was in 1976 winning Quito's price: the statue: 'Jesus del Grán Poder'.



Edgar Peñaherrera

The only other ecuadorian bullfighter that could defeat the spaniards in 'Feria de Quito' (1983). 'Alternativa': Quito, December 1, 1972. Godfather was Luis Miguel Dominguín the witness Sebastián Palomo Linares, with cattle of six different spanish 'ganaderías' in a contest between bull raisers. His biggest asset is the goodwill he has in every bullfight. He fights as close to the bull as posible, doing this he balances his lack of artistic skills. Randomly, when he understads the bull, he can achieve excelent results opening a box full of jewlry. In the 1970's he had a series of matches with the other ecuadorian bullfigter of the times: Fabián Mena. He still performs at the provinces with a mobil bullring.


Pablo Santamaría

The 80's came to the ecuadorian bull-world with a lack of national bullfighters. The potential bullfighter of the decade was at that time Pablo Santamaría. Pablo Martín Berrocal an spaniard manager takes him to Spain. He took the 'alternativa' September 22,1981 in Torrijos (Toledo), bulls from Carreros, it was given by 'Gabriel de la Casa' as godfather and witnessed by Tomas Campuzano. As a 'matador de toros' he has an excellent technique with the sticks and the 'muleta'. His sin has been not to develop the potential he has to make himself a 'figura del toreo'. Now-a-days he earns his living as a 'banderillero'.


José Luis Cobo

(1963)


It's very odd to see that rich people like José Luis Cobo succeed as bullfighters, mostly because of the profession's roughness. In regards of his family affairs with the bullfighting business, having ranchs and brands for bullfighting cattle greaded by all the 'matadores', as well as a consetion to manage Ambato's bullring, we may say that Cobo have had a competitive advantage over the other ecuadorian bullfighters, though, the truth is that his parents sent him to study in America to discourage him from his inclinations to bullfighting, When at last he returned home, he keeped on bullfighting with excelent results.

The movements that Cobo does inside the ring are from good to expectacular. He manages the distances very well, and also knows how to see the bull comming , has temper to order, and measures very good the dosis he has to give to fool the bull and make him atack. In other words, he has the spirit that makes bullfighting an art. José Luis is Ecuador's bullfighter for the 90's. To achieve this he had eager matches with extraordinary bullfighters like Juán de la Cruz, Paco Barona and Antonio Campana. The other bulfighter that could defeat him was the 'novillero' from Guayaquil: Guillermo Albán whom gave up bullfighting early, before taking the 'alternativa'. Cobo's 'alternativa' was in Quito, December 4, 1988, it was given by Miguel Baez 'Litri' , and regarded by Rafael Camino with bulls from Huagrahuasi.